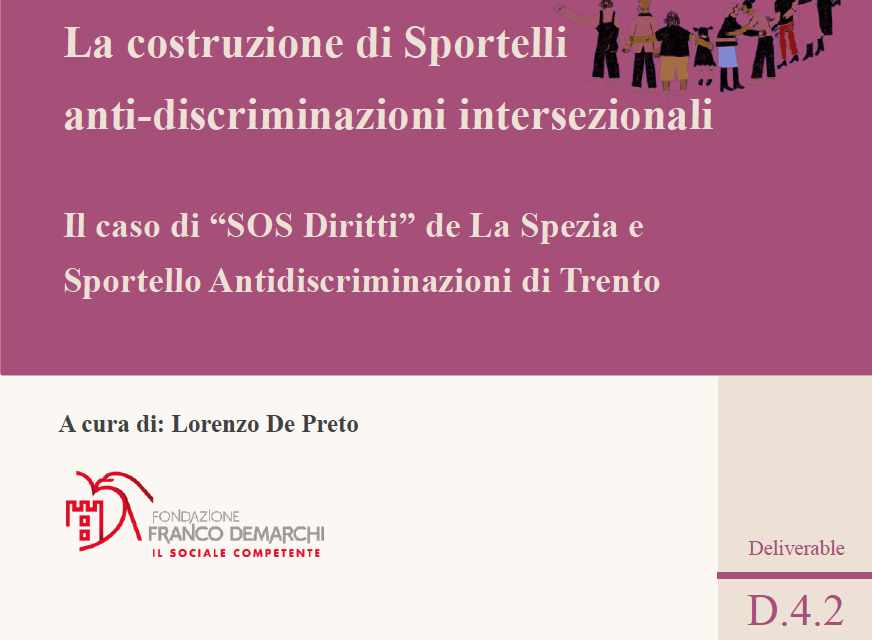 This study, realised within the framework of the European project INtersecting GRounds of Discrimination in Italy (INGRiD), was carried out by Dr. Lorenzo De Preto for the Fondazione Franco Demarchi Foundation in Trento, Italy. The case study focusses on the construction of two anti-discrimination desks, the Sportello antidiscriminazione di Trento and Sportello SOS in La Spezia, their participation in the training activities provided by the INGRiD project and the consequent assumption of an intersectional approach in the investigation and handling of reports of discrimination received. In the first part of the report it is possible to review the theoretical framework assumed, the definition of the subject and objectives of the research and the methodologies used. In the second part, an account of the survey work carried out separately territories is presented in order to analyse the nature, history and organisation of the the support desks, as well as the main organisational criticalities emerging and the outcomes of the assumption of an intersectional perspective in the daily operational practices.  In conclusion, strategies for solving the critical issues that emerged in the implementation phase are discussed along with a comparative analysis on the two contexts. The case study is intended to be a tool with the twofold purpose of favouring comparison, relations and the exchange of good practices between the staff of the desks considered, and, at the same time, to provide operational and organisational indications useful to third parties possibly interested in the construction and/or adaptation of activities of listening, support and offering guidance to  victims of discrimination distinguished by adopting an intersectional approach.
Full report in Italian. 
Share This Story, Choose Your Platform!